If you were able to initially connect to your services but constantly have to reconnect them to VidAngel, please know that your connection should stay good on VidAngel until something happens to invalidate it. If your connection does go bad with Apple TV+, Amazon, or Netflix, you will need to refresh your connection to VidAngel: Reset the Connection
Here are some suggestions to better maintain that connection.
Don't Log Out
Make sure you're not logging out of Netflix, Amazon, or Apple TV+ on their websites or apps. This can quickly make you lose your connection to the service on VidAngel.
Check the Streaming Service
You can look into your connected service's setup and settings. Streaming accounts shared with people outside of your home will often be targeted by the streaming service due to multiple IP addresses being used. This can cause a session to time out.
First, make sure you have checked the "Remember me" box when you've signed in and connected your Netflix to VidAngel.

Next, please be aware that Netflix has tightened its security with password sharing and will more readily log you out if anyone outside of your household uses your Netflix credentials. Netflix defines a household as a collection of devices using the same internet. You can read more about this on Netflix's Help Center: What is a Netflix Household?
However, Netflix does allow sharing with those outside your household by purchasing an 'extra member slot". "Extra member" accounts are compatible with VidAngel and should connect. You can read more about sharing your Netflix account and adding an extra member on Netflix's Help Center: Sharing your Netflix account
VidAngel does not support password sharing. If you're sharing a Netflix password with someone outside of your household or are not an "extra member", this will cause your Netflix connection on VidAngel to disconnect often.
If you're not password sharing but still getting signed out of Netflix itself on a specific device, here is an article from Netflix's Help Center: I keep getting prompted to sign in to Netflix.


Amazon may log you out more often unless you check the "Keep me signed in." box when you've signed in and connected your Amazon to VidAngel.



Try the Browser Extension
Remember, VidAngel only manages the connection to your steaming services on either the Android or Apple mobile app, or on our website. Then that connection will be synced to any VidAngel TV apps you use. So even if you don't watch on the VidAngel website, this browser extension allows us to better hold the connection to your streaming services on your VidAngel account, so hopefully you won't get those errors as often on your other devices.
You can know if you're using the browsing extension if you:
Click the puzzle piece near the top right of your web browser
See "VidAngel for Chrome" or "VidAngel for Firefox" in the list of Extensions


This will show you how to get the extension: Connect streaming services on the website
Update devices and app
Make sure your device's software is up-to-date and that you're using the most recent VidAngel app version. That can make a big difference! You can see how to do this here: Reset Everything Else
Check Security Settings
If you have high-security settings on your internet browser this could be impacting the connection.
Here's how you can check your settings in each web browser:
Select the web browser menu (three dots)
Select Settings
Select Privacy and security on the left-hand menu
Select Cookies and other site data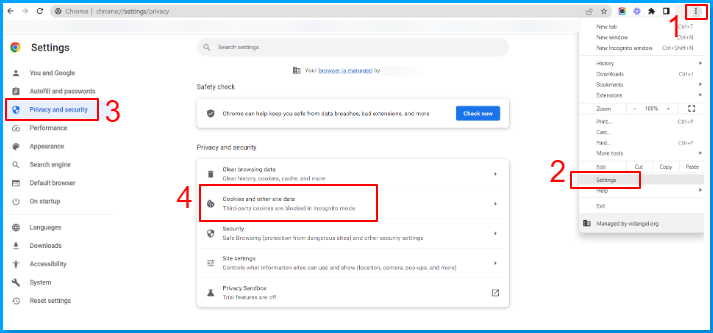 Make sure that you have not selected (the circle is white/blank) "Block third-party cookies" or "Clear cookies and site data when you close all windows".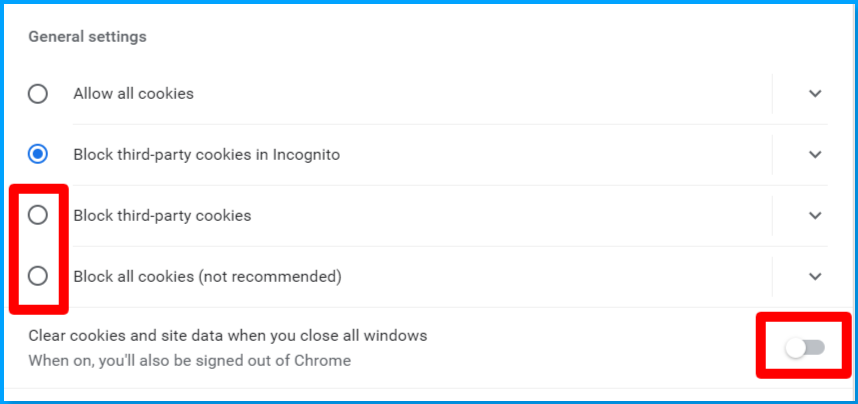 Select the web browser menu (three lines).
Select Settings.
Select Privacy & Security on the left-hand menu.
If you have "Strict" or "Custom" selected, then those settings may be interfering with our browser extension.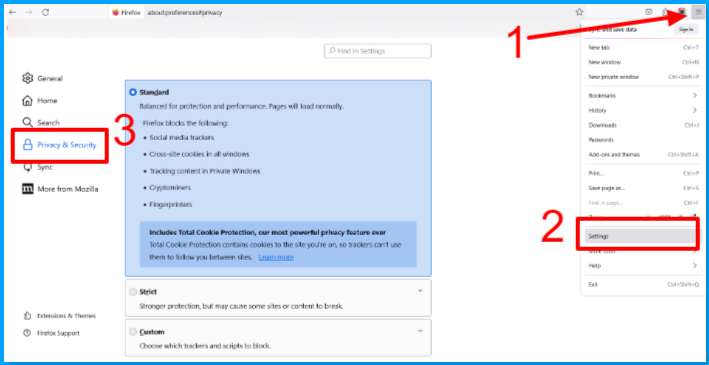 Still Having Trouble?
If you're still having trouble with your connection after looking at all these, you may want to look more into your individual devices or setup. You can find some help for that here: Services won't connect