Here are some tips for finding something great to watch on VidAngel:

Browse by Category
In addition to being able to browse the categories that we put on our home page, you can search by your preferred Categories. We have all the standard categories, like Action, Comedy, Romance, Drama, Horror, Family Picks, etc., but also Popular on Netflix, Popular on Amazon, Dry Bar Comedy, New on VidAngel, VidAngel Employee Picks, and more.
Additionally, on the website, you can order your category of choice by Popularity, Trending, Recently Added to VidAngel, or Alphabetically. You also can choose to filter your search by rating.

In addition to subject, you can browse by streaming service. You can select the categories:
Popular on Amazon Prime
Popular on Netflix
Popular on Apple TV+
Popular on Amazon Freevee
AMC+ on Amazon
Britbox on Amazon
Paramount+ on Amazon
PBS-Masterpiece on Amazon
STARZ on Amazon
Profile-specific Suggestions
Be sure to create different profiles for different viewers, so that we can suggest other titles we think you'd like (don't judge my Mall Cop!).
Social pages and e-mails
On the website, you can easily access our social media by scrolling to the bottom of a show or movie page. Follow us on Facebook, Instagram, and Twitter for updates and memes. You can also check out our blog for more in-depth discussions on filters and certain titles.
If you have an account with us you should also be receiving our emails with our weekly updates and suggestions.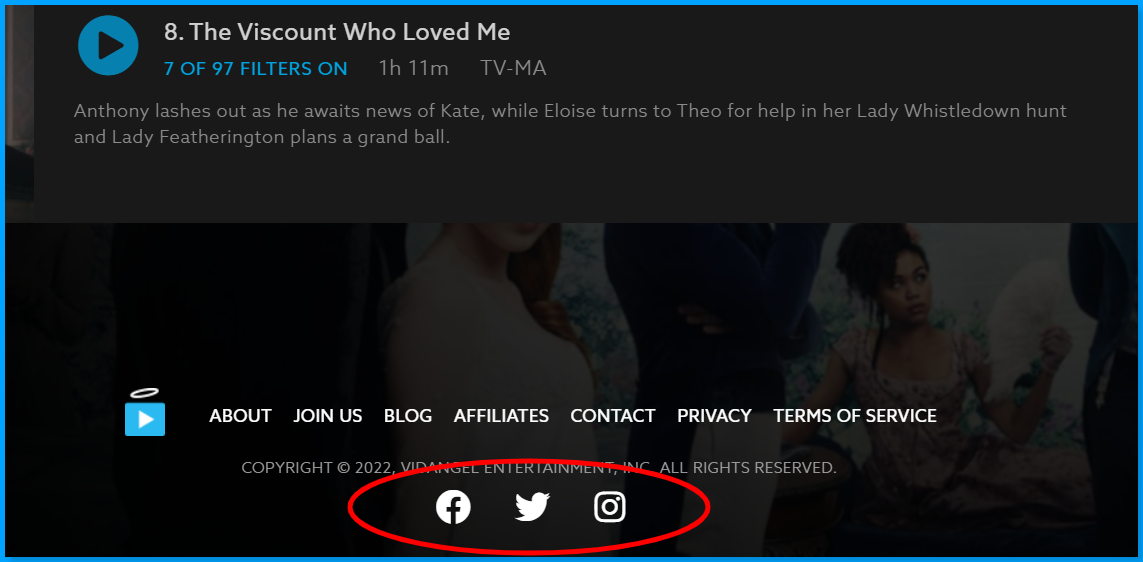 Save it for later
If you come across something you'd like to watch, but can't enjoy it right now, remember to watch it later by adding it to your Watchlist.
Search for a specific title
Of course, if you don't need anyone telling you what to watch, you can always search for your show. On the web and TV apps, the search option is at the top of the page.

On the mobile app, the search is a magnifying glass icon at the bottom of your screen.



Still Can't Find What You Want?
If you can't find what you're searching for, check out: Does VidAngel have filters for everything?