Getting started with your VidAngel membership in a few steps:
1. Create an account and subscribe
Go to www.VidAngel.com

Enter your email address in the main white bar.

Click the "Get Started" button.
You will be walked through the sign-up process to start your subscription.
See How Much Does VidAngel Cost?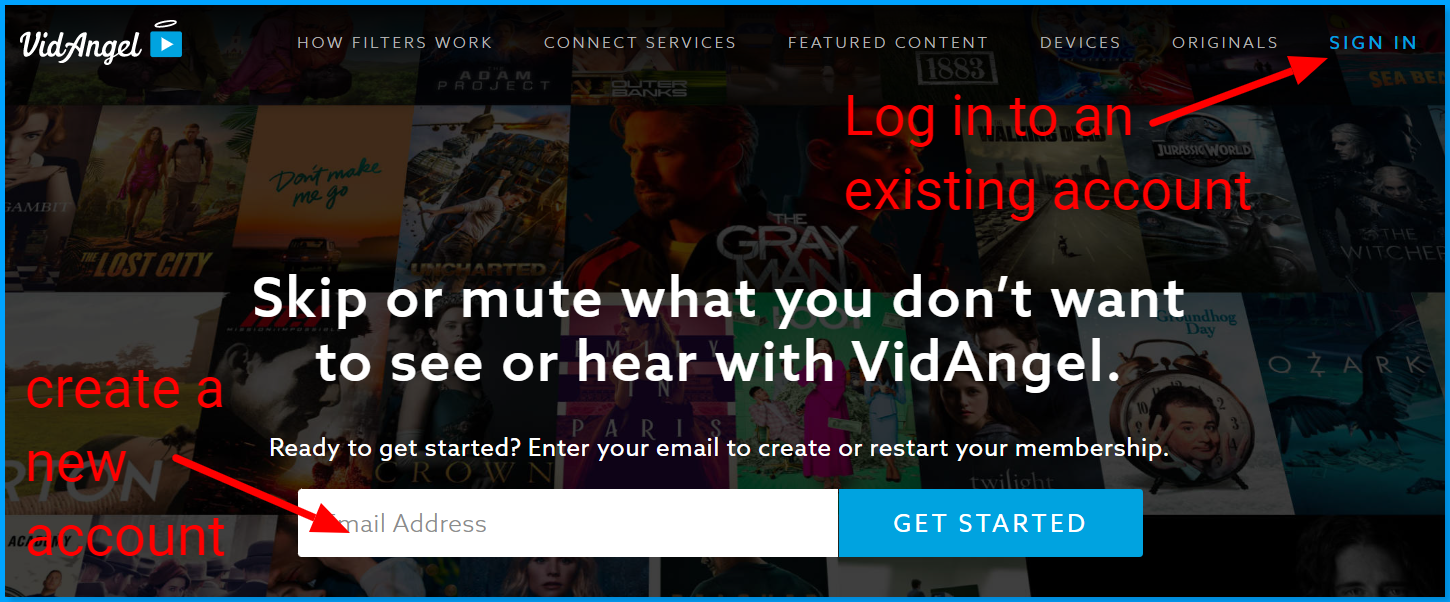 2. Connect your services
Connect your streaming service subscriptions to your VidAngel account. You will need to do this on either the website OR our mobile app (not both). Then this connection will sync to your account on any TV apps you use.
Go to www.vidangel.com
Select PROFILE (or your name) near the upper-right corner of the page.
Click "Link Services".
Click the white toggle button next to the service you wish to connect to VidAngel.
Follow prompts.
Open the VidAngel app.
Select "Me".
Select "Link Streaming Services".
Tap the white toggle button next to the service you wish to connect to VidAngel.
For more details on how to connect Apple TV+, Amazon, and Netflix (ad-free) visit: CONNECT SERVICES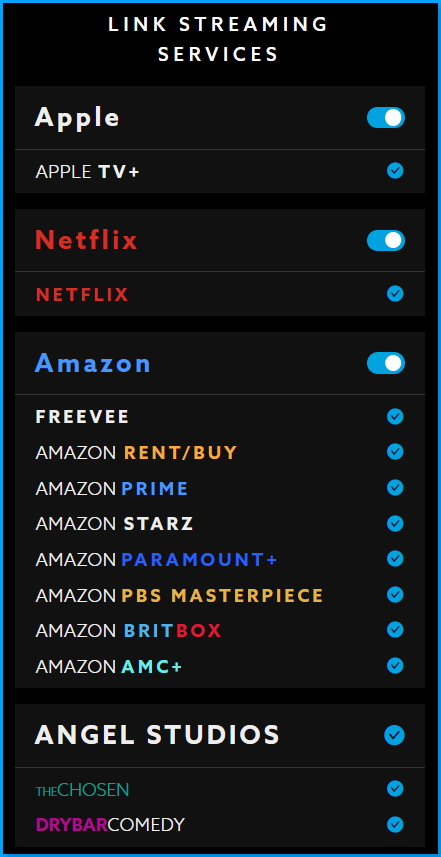 3. Select Filters
If you have questions about how to set your filters, go here: Choose Filters to apply
If you have questions about the kinds of filters we offer, go here: What Filter options do you provide?



4. Verify Access
Verify a movie or episode for viewing by pressing the "WATCH WITH [Service]" or "PLAY NOW" button. Wait for the verification to finish and then press the "PLAY" button again.
Even if you're not ready to sit down and watch, go ahead and just start a show. This will make sure everything's connected and good to go!

Verifications expire after 24 hours, so only verify the title you are ready to watch to avoid potential errors.
5. Set-Up Devices
Now that you've got VidAngel all setup you can use VidAngel on the following devices:
You can also cast to your TV using these devices and our mobile app:
You can view all our device setup articles here: DEVICE SET UP
Now, begin enjoying your favorite shows on VidAngel without all the bad stuff!
If you still have questions go HERE to contact Customer Support.