If you're a returning customer and you're not able to sign in to your VidAngel account, here are some things that can help:
Wrong Place
Make sure that you are not entering your login information in the field meant for new customers. You'll be able to regain access to your account by clicking the Log In or Sign in button in the top right corner of the webpage.


WEBSITE:
PHONE OR TABLET: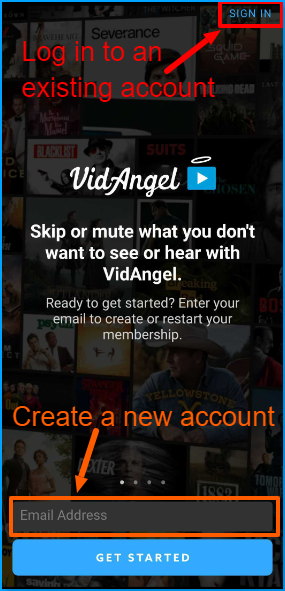 Login Credentials Not Working
If you're getting the message, "Sorry, we can't find an account with this email address. Please try again." then you are either inputting your email incorrectly or you do not have an account with us under that email. You can go here if you forgot your password: Change My Password
You may have initially logged in with Apple ID and elected to Hide Your Email. You can go here to find out how to locate that email: Find my private relay iCloud Apple ID email
If you know you have an account with us, you can contact us HERE so we can help you find out what email address you used for your VidAngel account.
Outside of the United States
Unfortunately, we cannot support our service outside of the United States at this time; this includes U.S. military base and embassies. However, VidAngel should be accessible in U.S. territories.
You can read more about this here: Can I use VidAngel outside of the United States?
Network or Internal Server Error
Still Having Trouble?
Check out our in-depth troubleshooting: In-Depth Troubleshooting