If your basic Amazon Video shows as connected, but not your other subscription channels (Prime, STARZ, Paramount+, Showtime, AMC+, etc.) then a few things may be the issue: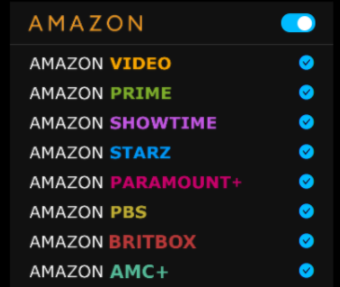 Refresh the Amazon connection
All Amazon services connect and disconnect together, so you will want to refresh your Amazon connection on VidAngel when you add another service. If needed, go to Connect Services.
Confirm the service is through Amazon Prime
If your subscription to STARZ, Showtime, Paramount+, etc. is not through Amazon Channels on your Prime account, VidAngel won't be able to connect with them.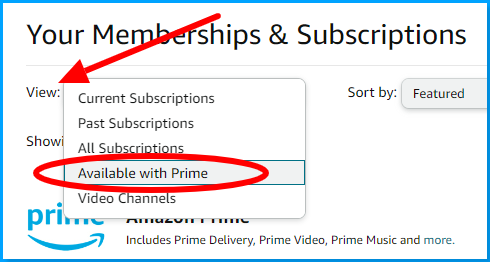 To check if you have that service through Amazon, go here: Your Memberships & Subscriptions. Make sure the "View" dropdown menu selected is "Available with Prime".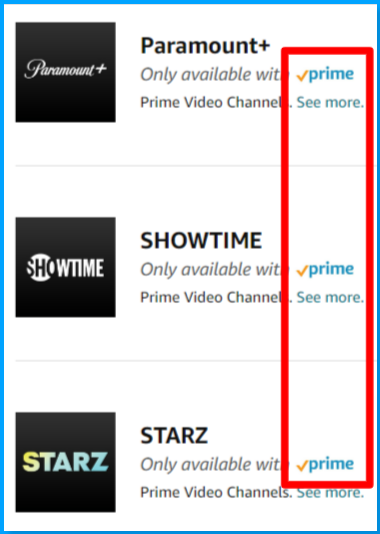 Confirm the subscription does not include ads
We do not connect to some subscription options with advertisements. This applies to Amazon Channel's Paramount+ and AMC+. To connect this service with VidAngel, you will need to have an ad-free Premium subscription.
You can your subscription here: Amazon Account & Settings: Channels. Make sure you're in the "Channels" section and scroll down to "Your Channels".

Check your Amazon account
Using the wrong account
Your Amazon subscriptions may be under a different Amazon account. Ensure you're using the same Amazon account both online and with VidAngel. It may seem silly, we know, but many families have more than one account.
Using an incompatible type of account
Another possibility is that you have a "Friends and Family" account (where you aren't the account owner but it's been shared with you through the Prime Sharing Program) or a Business account. If so, VidAngel does not currently work well with these types of accounts and you may not get the connection to work.
Allow Time to Connect
Sometimes you will need to wait 24 hours after adding a 3rd party service for it to connect to VidAngel.