Are you getting the error, "Too Many Streams: You've exceeded your limit for simultaneous streams on [Service]"? If so, this means your VidAngel account has exceeded the streaming limit for that streaming service provider. Or, in other words, your VidAngel account is being used on multiple screens to watch shows from the same service at the same time.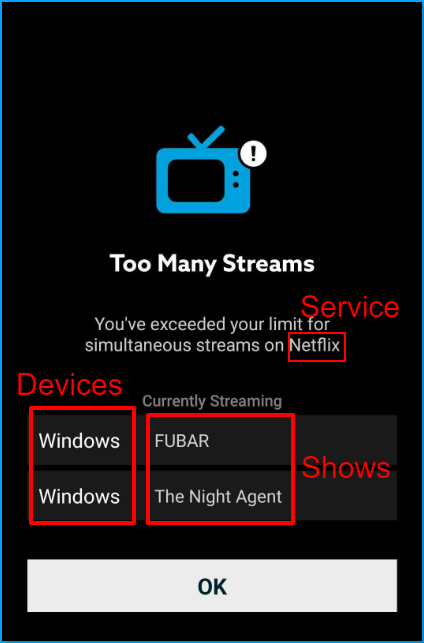 VidAngel Steaming Limits
Concurrent streaming limits while watching through VidAngel are:
2

N

etflix streams
2 Amazon streams
2 Apple TV+ streams
3

VidAngel's licensed content (such as titles from Angel Studios)
The error message will show the streaming service that you have exceeded your limit on, along with the titles that are currently being watched from that service and on what devices.

Once one of the streams has been closed, you will then be able to play the next show.
Not exceeding the limit
If you get this error message when you believe there are no other streams currently being played, this could mean a device is working on things in the background and potentially sending a false message.
To clear this:
Locate one of the devices listed as being used in the error message.
Close out of VidAngel.
Recommendations
We recommend backing out of a title after you are done watching it so that the app or web browser no longer has the title "ready to go". You will know if the title is "ready to go" if you can see the video player controls, such as Play, Pause, Fast-forward, and/or Rewind.
If you close out the video player, it will free up that streaming service on your VidAngel account so you can start a new stream.